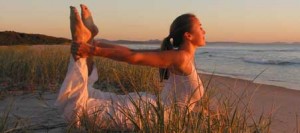 The perfect retreat for those wanting to develop their practice in idyllic surrounds with guided walks, gourmet healthy meals, massage, core strength classes and lots more. Retreats are held in Byron Bay, Australia, Bali, France & Italy with experienced yoga teacher Jessie Chapman, Australia's bestselling yoga author…
Offering complete renewal for body mind and spirit, Radiance Retreats offer a soulful blend of yoga, healthy eating, walking, pampering and deep relaxation in lovely retreat in accommodation in beautiful locations. Retreats are held in Byron Bay, Australia, Bali, France & Italy with Jessie Chapman & facilitators.
Radiance teacher Jessie Chapman, creator of the Radiance Yoga DVD series, has been practicing yoga since 1991 and teaching since 1996. Twice daily classes combine gentle warm up sequences with vinyasa yoga as well as holding in postures longer to build strength, awareness and correct alignment. Yoga props are used to go deeper and to create ease and restoration yoga is incorporated to cultivate health and vitality. Lots of one-to-one attention and adjustments are given by the yoga assistants.
Retreat classes and activities include guided beach and nature walks, pre lunch core strength classes targeting weak abdominal and lower back muscles, cooking demonstrations and classes, day trips and cultural tours, Â guided meditation, bhajans (chanting), nutrition and healthy lifestyle talk, evening yoga nidra and lots more.
Where is it?
Byron Bay Australia, Bali, France and Italy
Cost?
From $1100 per person
Website
http://www.radianceretreats.com
Similar yoga retreats